Vida Goldstein was a tireless and charismatic campaigner for women's equality, universal suffrage and equal pay. In 1903 she became the first woman to stand for parliament in the British Empire. A life-long pacifist and internationalist, Goldstein opposed conscription during the First World War and was a notable peace activist in the interwar years.
Early life
Vida Jane Mary Goldstein was born in 1869 into a liberal Melbourne family, deeply committed to social-welfare reform. Her mother Isabella was an active suffragist, and Vida assisted her mother in gathering signatures for the 1891 'Monster Petition' in favour of women's suffrage. By 1899 Vida was an acknowledged leader of the radical wing of the women's suffrage movement in Victoria. In 1903 she formed a new organisation, the Women's Federal Political Association and stood, unsuccessfully, for election to the Australian Parliament. She made four more attempts between 1910 and 1917, all unsuccessful.
Suffragist and social reformer
Goldstein's interests were wide-ranging. In addition to women's suffrage she campaigned to improve conditions for women workers, for equal property rights within marriage, birth control, raising the age of consent, a separate Children's Court and a living wage for workers. She was an accomplished and charismatic speaker, skilled at both controlling and inspiring a crowd.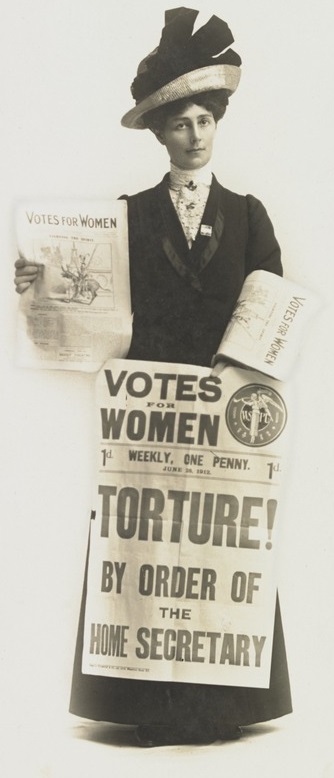 Peace activism
Goldstein was an ardent pacifist. During the First World War she campaigned against conscription and founded the Women's Peace Army with Adela Pankhurst, Jenny George and Cecilia John. Together they toured interstate, establishing branches of the army. Cecilia John began many meetings by singing 'I Didn't Raise My Son to be a Soldier' in her fine contralto voice, defying bans on performing the song in public. The Women's Peace Army organised many large street marches and held regular meetings of followers during the two years of the conscription debate. Often these meetings were disrupted by opponents, sometimes threatening physical violence. Goldstein's speeches were regularly monitored by plain-clothes policemen hidden in the crowd, but unlike Pankhurst, she opposed violence of any sort and did not take part in the more rowdy demonstrations against the cost of food (the food riots of 1917) organised by Pankhurst.  She gained an international reputation as both a feminist and pacifist, and became a committed internationalist after the war.
Confounding stereotypes
Suffragists were often lampooned in the Australian press, dismissed as ugly, disappointed spinsters, or as aggressive 'man-women'. Goldstein confounded the stereotypes. Beautiful, elegant and a charismatic speaker, she countered opposition with wit and charm.