We live surrounded by material things. Some are mundane and utilitarian, others exotic objects of desire, but all our belongings have something to say about who we are and how we live. Objects reflect both culture and history. Individually and collectively, they shape our lives, link us to others and connect us to the past. Yet objects are often strangely absent from accounts of past lives. This seminar series aims to unpack some of the stories that objects can tell about the present and about the past.  We also hope to provide a forum for discussion for those of us interested in material histories. We aim to cast the net widely, with no limitations on either time or space.
In presenting this series the Old Treasury Building is working in partnership with colleagues from the Australian Catholic University. We have chosen a lunchtime slot (1-1.50PM AEST), to keep presentations concise and focused, but still allow audience participation. This is a free digital seminar series, with recordings available after each seminar for anyone who cannot join us on the day. Access information will be provided on registration. To register for the next seminar in the series please click on the link below.
Each seminar will present two researchers who will speak for 12-15 minutes each on objects that are linked by a common theme. If you are engaged in research on any aspect of material history and interested in presenting in the series, please contact the convenors via the MHSS contact form.
View recordings of previous presentations here.
Deborah Tout-Smith:
Wartime in Melbourne's Exhibition Building
"We would have been better off in tents", recalled Alan Walton, RAAF, based at Melbourne's Exhibition Building in early 1942. The wartime occupation of the Exhibition Building began in October 1940, when the RAAF requisitioned the Building under the National Security (General) Regulations for use as a barracks and training facility. An aquarium and dance hall continued to function amidst the military bustle on the site. This paper will explore the little-known but significant story of the Exhibition Building and its unusual war-time occupants.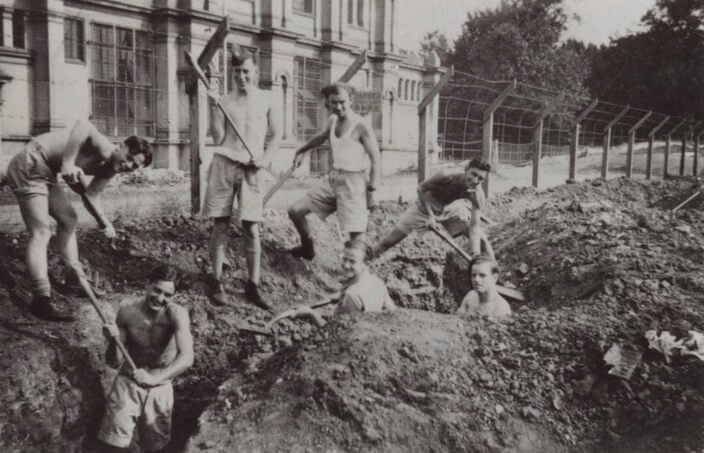 RAAF Personnel Digging Slit Trenches at Exhibition Building, World War II, 1942. Museums Victoria collection, donated by Jack Van Emden.
Deborah Tout-Smith is Senior Curator, Home & Community, in the History & Technology Department of Museums Victoria. Research for this paper began in the lead-up to the 75th anniversary of Victory in the Pacific Day (15 August 2020), for the Wartime Stories from the Royal Exhibition Building project, funded by the Victorian Department of Premier and Cabinet, online at Wartime stories from the Royal Exhibition Building.
Lorinda Cramer:
'No man is hard to fit': Fletcher Jones' Plus 8 trousers in post-war Australia
When Fletcher Jones opened his first Melbourne store in 1946, queues of men formed along Collins Street. They were there to purchase Jones' ready-made trousers. Known as Plus 8s, the trousers were personally fitted in-store from 72 available sizes – a number that quickly grew. This paper explores Jones' assurance that 'no man is hard to fit' against the backdrop of Australia's returning Second World War servicemen, the complications of issuing civilian suits on demobilization, and the challenges of rationing and material shortages.
Lorinda Cramer is a research fellow in the Gender and Women's History Research Centre at the Australian Catholic University.  The research for this paper was undertaken as Redmond Barry Fellow for the 2022 State Library of Victoria Followships.
Image: The "F.J." Plus "8" (advertisement), Herald, 19 June 1946, 10.