Absinthe and oysters
This absinthe bottle was found in a rubbish pit at Little Lon (in Melbourne's north-east corner) with nine more just like it, along with French champagne bottles, imported spirits and 300 odd oyster shells. The occupant, Mrs Alicia Bond (aka Sheridan), was supposedly running a grocery shop at this house, but why would a grocer be discarding such things?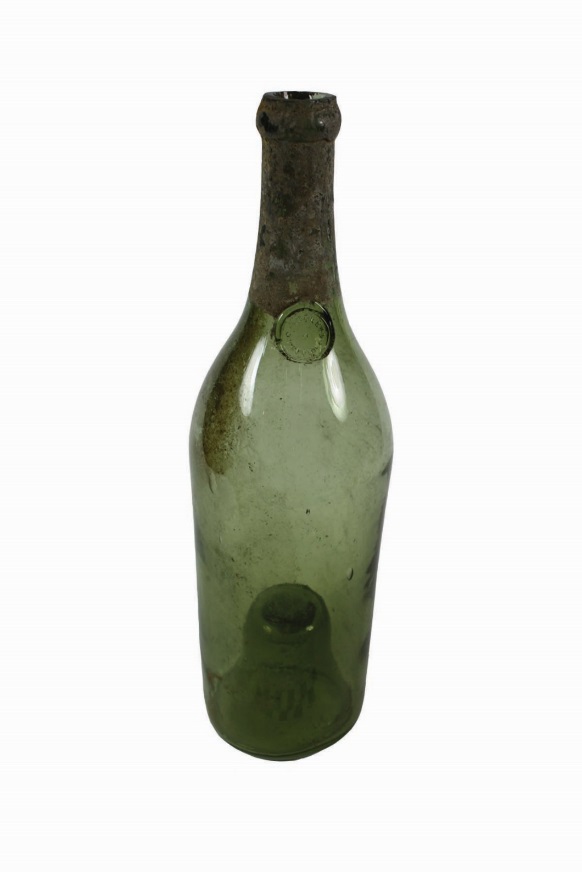 Little Lonsdale Street, 1870. Source: State Library of Victoria.
Absinthe, or the green fairy, was a hallucinogenic alcoholic drink available from the 18th century but reaching new heights of popularity in bohemian Paris in the late 19th century; coinciding nicely with the timing of Mrs Bond's grocery.
The contents of the rubbish pit are much more consistent with a high class brothel. Turns out Mrs Bond operated brothels in Little Lon for years to support her children and was now using her grocer shop as a cover for a high class brothel.
When Mrs Bond's son attacked her drunken, violent de-facto husband she testified in court:
For the defence, Alicia Sheridan was called, and said she had lived with the prosecutor eight years, and had been with him in the colony two years and a-half. During that time he had only done two days' work. She could not see her children starve, and had at first taken in washing, and then had to keep a brothel to support the family.
Prostitution in gold rush Melbourne
Poor women in gold rush Melbourne had few opportunities to earn a livelihood, especially if they were unwed mothers. Even fewer of these opportunities were as lucrative as prostitution. While it wasn't illegal to 'walk the streets' or run a brothel in this era, women could still be arrested under vagrancy laws or for keeping a 'disorderly' house. So they had to keep quiet.
Mrs Bond, and many others like her, ran a very successful business and went on to own a number of properties in Little Lon, renting many out as brothels.
To learn more about sex work at Little Lon read this article by Sarah Hayes and Barbara Minchinton.
The Museums Victoria Collection website showcases artefacts recovered from the Little Lon excavation.
Author: Sarah Hayes, Historian