Emma Williams (1864-1895) was the only woman executed in Victoria for killing her own child.  Although others were convicted, all were spared the noose. But Emma's crime seemed particularly callous, and Emma herself was not a very sympathetic figure.  At a time of widespread poverty, and when the courts seemed intent on a 'get tough on crime' régime, the execution of Emma Williams may have been intended to send a stern warning to other impoverished women who might have been tempted to rid themselves of burdensome children.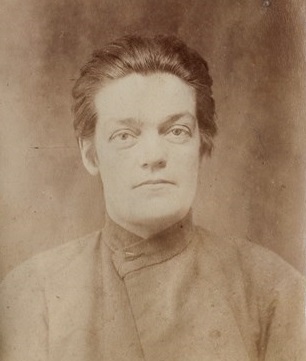 The crime
On 12 August 1895 the body of a little boy was found in the Sandridge Lagoon, near the Sugar Works at Port Melbourne. He was found in about five feet (1.5m) of water by Neil Oberg, a local labourer. A large piece of bluestone was tied around his waist with black braid.  Oberg used a boat hook to pull up the body, then left it on the pier while he went for the police, who took the child's body to the morgue. Enquiries began immediately to establish his identity.
'Shocking Child Murder'
There could be no doubt that murder had been committed and press interest was intense.  All three daily newspapers ran stories on 12 and 13 August, under similar headings –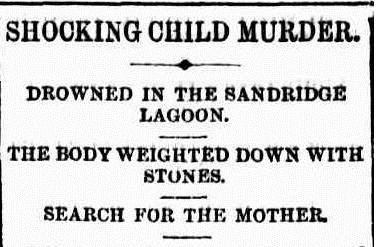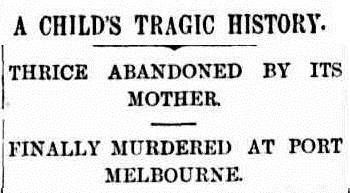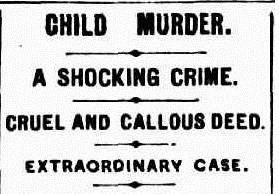 From the very beginning press commentary stressed the callous nature of the crime, which only intensified once the victim was identified. This took place on the same day. Detective Sergeant Sainsbury, who was directing the case, was contemplating parading the children from the local state school past the body in the morgue in an attempt at identification, a process the Age described as a 'somewhat gruesome expedient'. But thankfully local fish hawker Frederick Chamberlain Foster, a man who was said to know almost everyone in the Port Melbourne area, was able to spare the children this ordeal.  He recognised the remains at once as those of John (known as Johnnie) Williams, son of Emma Williams, aka Emma Ramsay, Emma Allen or Emma Penwin (or Penryn).  The police (and the press) then began to piece together the sad details of Johnnie Williams' short life and the hunt began for his mother.
A neglectful mother and an 'immoral' woman
Over the next 24 hours both the police and the press scoured Port Melbourne, interviewing anyone who claimed to have known Emma and her son.  A pattern soon emerged of a desperate woman, who had made repeated attempts to place her child in care while she tried to find employment. Several women came forward claiming to have cared for Johnnie at different times, and all told the same story. Emma had left her son with them promising to pay for his upkeep, but had not continued to pay and had not returned to claim him.  Sometimes the women were left with Johnnie for weeks without payment.  On at least two occasions these women tried to have John committed to state care, but the magistrates refused to do so and insisted that they find his mother.  John was then returned to Emma by the police. It transpired that little Johnnie Williams was well known in Port Melbourne, where he was said to have wandered about, in and out of people's houses, largely unsupervised. Despite this unpromising history, the child was said to have been 'well nourished' and 'adequately clad' when he died, but this did not deter the reporters. Well before she was arrested, the press had painted a graphic picture of Emma as a neglectful, uncaring mother.
At the same time there was a good deal of speculation about Emma's way of life. She was described as a widow – 'a smart-looking woman of about thirty-two years of age', who 'lost her husband by death some time ago.  Since that occurrence', the Argus continued, 'she has led an immoral life, and her names have changed as frequently as her residences.' (Argus, 13 August 1895, p. 6)  It did not bode well for Emma.
An approach to Miss Sutherland
It was also alleged that Emma had another older child, a little girl 'of about eight years', whom she had also tried to relinquish. On 14 August the Herald published a lengthy interview with Miss Sutherland, 'the well-known philanthropic lady,' who was said to be 'acquainted with the woman Williams'. Miss Sutherland explained that she had been approached to take the little girl into her care, but that Emma had 'failed to keep an appointment made in that connection, and Miss Sutherland understood that the child was sent to the woman's mother in Tasmania.' Some five months previously Emma had contacted her again asking her to take Johnnie, but Miss Sutherland was unable to help her.
"Do you know", said Miss Sutherland in conversation on the subject this afternoon, "within the last week no less than twelve mothers with babies in their arms have come to me and asked me to take their children.  We cannot take them all." (Herald, 13 August 1895, p.4)
Arrested and charged
Emma was located and arrested on the evening of 13 August.  She appeared in the South Melbourne Police Court the following morning charged with murdering her son. Under the page one headline 'HEARTLESS MURDER/ OF A LITTLE CHILD', the Herald described her appearance in court. She was said to have seemed 'calm and composed', despite the hostile crowd that had gathered at the court. As the Herald reported:
An immense crowd of people of all sorts and conditions gathered in front of the South Melbourne Police Court this morning, pushing, struggling, and almost fighting in their anxiety to see the woman Emma Williams, who is in custody on a charge of murdering her two-year-old boy Johnnie. (Herald, 14 August 1895, p.1)
Emma gave her age as 27 (although she was in fact 30), her occupation as that of a tailoress, and her birthplace as Tasmania.  She was remanded to appear at an inquest into the death of her son to be held on the following Friday at the City Morgue.
A confession
Emma initially maintained her innocence, but changed her plea when her erstwhile companion, one William May, informed on her at the police station. Whether naïve, foolish, or just brazen, Emma was still wearing the dress, trimmed with the very braid she used to tie the stone to Johnnie's body.  Perhaps she had no other. In the police station she seems to have realised her vulnerability belatedly. She tore the braid off her dress and stuffed it up the chimney, but May tipped off the sergeant. When confronted with this evidence Emma evidently decided to make a full confession. Her words were recorded by the police sergeant, in the presence of several others, and signed by her.  If represented accurately, her description of her actions is particularly confronting.
I went out on Sunday night between 8 & half-past 8 and I took him down as far as the little pier at the lagoon where I got a stone and I tore the braid off my dress and I tied it on to the stone around his waist and I pitched him in. I stopped there for about 20 minutes and then I came home.
In explanation of her actions she said: 'there was always grumbling in the house as the child would cry after me and this they said was a bother.'
Her statement also detailed her various attempts to place Johnnie in care.  She claimed to have approached the 'Catholic Church house', but they refused to take him because he was not a Catholic.  She also claimed to have approached Miss Sutherland twice (although Miss Sutherland only recalled one such approach), and to have written to her mother, who also refused to take him. She added:
I have given him to one or two others but when I knocked off paying them for him they gave him back to me saying they could not afford to keep him without I paid them and I had no means to do so. I could not get a situation as at any place they would take me they would not take the child.  ('Statement of Emma Williams made this 14th day of August 1895 at the South Melbourne Police Office', Emma Williams, Capital Case File – PROV,  VPRS 264/P1, unit 2)
This was a very common dilemma facing lone women with children. Ironically Emma might have been able to obtain assistance for Johnnie as a neglected child before the courts had she applied, although her 'respectability' might have been questioned. She may not have been aware of this option. In any event, it is clear from this history that Johnnie almost certainly suffered from acute separation anxiety.  No wonder he cried whenever she left him!
Emma signed her confession herself.  Her signature was well formed and fluent, suggesting that she could write competently, but it is unclear how well she could read. In his evidence at the later trial Frederick Matthews (also known as William May) said that Emma claimed to be unable to read, although he implied that she was dissembling. It is possible therefore that Emma was unable to verify the precise words that were used in her confession, although the statement was read out to her before she signed it (Evidence of Sergeant Alfred Sainsbury,Transcript, p.16) and also read out to the court.
Reports in the press
The following morning both the Age and the Argus printed Emma's confession in its entirety. We have to assume that the reporters were given access to the hand-written statements and that the police were quite prepared to see them published well in advance of any trial. In fact the Herald later claimed that their reporter, Thomas Kelynack, was present with the local sergeant when the confession was first taken down in the police station and that was confirmed in the trial evidence. (Herald, 25 September 1895, p. 4)  The Age used a large banner headline:  'A MOTHER DROWNS HER CHILD…/A HORRIBLY CALLOUS ACT/ THE CHILD DROWNED LIKE A DOG'.  Both dailies also printed extracts of the statements made by two of the other people who had been in the house with Emma that weekend– her erstwhile 'partner' William May and Jane Costelloe. To all intents and purposes the printed versions are identical with the transcripts of the evidence they later gave in court, although there are some minor differences of wording. There is also some additional information that was not recorded at the trial. This might have been provided to the press verbally by the individuals themselves, although that is not stated. In each instance the additional information added to the evidence mounting against Emma as a cruel, unfeeling mother, who felt no remorse at her actions.  The report of William May's statement for example included his observation: 'I have seen no difference in her since she drowned the child.  She has been jolly and laughing ever since.' Jane Costelloe was also reported as saying: 'The little boy was about 2 years of age, and seemed to be much attached to his mother, but she was always slapping him.' She added:
All day Sunday, before she went out with the child, Emma was saying to the boy, who was cross and crying, "This is your last day home; I wouldn't be bothered with you any more. This is your last day here; I will get rid of you tonight."
No wonder the Age concluded that:
The deed was one of an almost inconceivably callous character. The child was drowned like a superfluous dog or kitten might be, and by the very same method with the material difference that in this case the deed was performed by the mother of the victim. (Age, 15 August 1895, p. 5)
The Leader, the weekly edition of the Age, repeated much of this content on 17 August, with the addition of information that purported to shed light on the fate of Emma's older child. This article claimed that Emma came to Melbourne 'eight or nine years ago' and married a wharf labourer, Henry Williams.  They had a daughter, but Emma left Williams within one year of her birth, claiming that he ill-treated her.  Williams continued to care for this child until he became ill, at which point she was returned to her mother.  However Williams was so concerned for his daughter that he asked Miss Sutherland to intervene. According to the account in the Leader Miss Sutherland found the child living in '[w]retchedness, filth and squalor'. Her mother happily surrendered her and it was reported that she was 'now being well cared for.' However this account contradicts the Herald's earlier account of Miss Sutherland's dealings with Emma, said to have been based on an interview with that redoubtable lady on 14 August. According to that version, Emma failed to keep an appointment with Miss Sutherland, who was told subsequently that the child had been sent to Emma's mother in Tasmania.  There are also many inaccuracies in the details of Emma's marriage and subsequent history in the Leader article which our research has identified. We fear that the fate of Emma's daughter Ella is by no means clear. More on that later.
Emma's birthplace of Launceston also followed her case with some interest. The Launceston Daily Telegraph published their first report on 15 August, quoting liberally from the Age, then followed with another report on the inquest on 19 August. This second article added this brief comment: 'There was nothing at all against the girl here, and her surroundings were quite respectable.  Her mother, who married a second time, still lives in Margaret street.' (Daily Telegraph (Launceston) 19 August 1895, p.3)
The inquest
The inquest into the death of John Williams was conducted at the Morgue by the City Coroner Dr Youl on Friday 16 August 1895. Emma was represented by Mr Forlonge. Dr John Brett testified that he had conducted a post mortem examination on the body of the child on 13 August and confirmed the cause of death as drowning.  He also confirmed that the body was weighed down by a stone weighing 15 pounds, 14 ounces (7.2 kg) and that Johnnie himself weighed 25 pounds 5 ounces (about 11.4 kgs). He was described as a 'well built well formed male child.' Emma's confession was entered as evidence, along with statements made by May, Costelloe and John Brown (the other occupant of the house). The jury returned a verdict of wilful murder and Emma was committed to stand trial at the Supreme Court on 16 September.
The trial
In the event Emma's trial took place in the Supreme Court before Justice Hodges and a jury of 12 men on 24 September 1895. Strangely, in light of her confession, Emma entered a plea of not guilty. However the evidence given by others, including those who had shared the house with her, only provided further confirmation of her guilt. May claimed that Emma had tried to persuade him to go to Sydney with her, on the assumption that the police could not arrest her there. He also alleged that she had confessed to him later on the same day. This version of events is a little kinder, in that at least it suggests that Johnnie was happy in his last few moments: 'the child was looking down into the water and smiling and slipped from my hands into the water.' But what followed was chilling: 'I stopped there for about 20 minutes to see if it would come up again.' (Transcript, p.9).
Cross-examination of Matthews (May) obviously implied that he was living off the earnings of prostitution, which he denied. (Transcript, p.10)  Later police evidence repeated this accusation. Constable Akers in particular claimed to have known Emma for some seven years. Under cross-examination he claimed: 'The woman has been an unfortunate [euphemism for prostitute] for some time past. Matthews has told me that he lives on the proceeds of prostitution.' (Transcript, p.15.)
The court also heard evidence from several of the women who had looked after Johnnie at various times. Their evidence generally confirmed the reports already published in the press.
The summing up
The official transcript did not record either Justice Hodges summary remarks to the jury, or his comments in passing sentence, but the court reporters took detailed notes and their accounts appeared in the press the following day – with some interesting variations. According to the Age, Justice Hodges, in summing up, said:
He did not know how to put the case to the jury, for all the facts pointed to the one conclusion, that the prisoner intentionally took that child's life; that she threw it into the water with the fixed determination that it should not rise to the surface.  Everything showed a mind capable of planning this murder, and capable of carrying it out. There was not one single question that could be put to the jury on the other side; there was nothing to suggest accident.
He went on to comment in some detail about women like Emma, who took a 'wrong' path.
It was one of those cases – unfortunately too common – of a woman starting on the wrong road, separating from her husband, and living with another man. He could not see that any blame attached to the institutions which it had been suggested refused to take in the mother or the child. Prisoner's case was not that of a girl who had taken her first false step and was anxious to lead a better life. …These societies had not the means to support and maintain the children of all the immoral women that existed in the community.
Of course it was of no help to Emma, but His Honour was equally disparaging of Frederick Matthews.
The witness Matthews was one of those beings who were a disgrace to humanity, and had given his evidence as if the life of another was not of half as much importance to him as a glass of beer.  He was utterly indifferent to what became of prisoner or her child, or anyone else, so long as his beastly appetites of all kinds were satisfied. (Age, 25 September 1895, p.5)
The Herald's version of the summing up was similar, but included reference to evidence presented by Emma's lawyer Mr Forlonge, detailing her attempts to find a place for Johnnie in one of the charitable homes. This helps to explain the judge's comments. The Herald also printed a rather more populist version of Justice Hodges' remarks about women like Emma.  There was no reference to Matthews at all.
Mr Justice Hodges, in summing up, alluded to the remark made by counsel for the prisoner in regard to efforts made to obtain admission for the woman's child in some charitable institution.  His Honor [sic] thought that no blame could be attached to any institution for refusing to receive either the mother or the child.  It was not a case where an innocent or unfortunate girl applied for relief, but where a woman of mature years asked to be relieved of her burden in order that she might go and sin some more.  She desired to be relieved of her responsibility so that she might be able to repeat further acts of immorality.  Possibly she would have come back again seeking for the admission of her next child.  But charitable institutions had not the means to afford relief even if they were so inclined; the public did not supply them with sufficient funds to enable them to keep the children of prostitutes and adulteresses that exist in the community. (Herald, 25 September 1895, p.4)
The message was clear. Only the children of 'respectable' women had the right to expect assistance.
The verdict
One of the most surprising things about trials of this period is the speed with which they proceeded. In this case the jury retired at 2.55 PM on the afternoon of the first day of the trial and returned at 3.42 – not quite the '20 minutes' retirement' reported by the Age, but still very swift. They found Emma guilty and Justice Hodges pronounced sentence of death. Emma was taken from the court either 'weeping', according to the Age, or 'calm throughout' according to the Herald. Either way, it was all over in less than a day!
The aftermath
Two days later Constable John Asker, who had arrested Emma and who also gave evidence at her trial, submitted a report on her 'previous character', presumably to inform any consideration of mercy. He claimed to have known Emma for '6 or 7 years and frequently met her.' His report continued:
as far as I know this is her first conviction, but I always regarded her as a woman of ill fame, having often seen her in the streets at late hours and generally in company with other women of ill repute. Although I cannot give any specific instance, my impression always was that she partly if not wholly lived on the proceeds of money obtained by illicit means. (Capital Case File, Report of Constable John Asker, 26 September 1895)
Sergeant Sainsbury was more direct.
There is but little doubt that of late years at any rate, Emma Williams lived an immoral life and her associates seem to have been also subsisting on the proceeds of prostitution and thievery.
Sainsbury's report also repeated the belief that Emma's husband had died in the Melbourne Hospital 'about two years ago' and that her daughter 'a little girl of some 7 or 8 years of age', had 'for some years been kept by her grandmother.' (Capital Case File, Report of Sergeant A.G. Sainsbury, 28 September 1895)
A stay of execution
The death sentence was mandatory in a conviction for murder at this time, but there was always the possibility that the sentence might be commuted to a lengthy term of imprisonment by the Governor in Council. It was probably to inform this process that the 'reports of previous character' discussed above were sought from the police. Those reports would not have provided much hope of a reprieve for Emma and it was perhaps for this reason that she tried one last desperate ploy. The law relating to convicted female felons included the provision that an execution could not be carried out if the condemned prisoner was found to be 'pregnant with a quick child'. This was a provision of the Juries Act 1890 (section 90).  It was an obscure provision that had not been used in Victoria before, but it had a long history in English common law, where it was known popularly as 'pleading the belly'.
'With child of a quick child'
Section 90 of the Juries Act 1890 (Vic) read:
In case a female upon a capital conviction alleges or there is otherwise reason to suppose that she is pregnant, the court shall direct that one or more medical men be sworn to enquire whether she be with child of a quick child, and if after due enquiry it is reported that she is with child of a quick child, the court shall stay execution of the sentence until such female be delivered of a child or until it is no longer possible in the course of nature that she shall be so delivered.
A 'quick child' was a foetus of some 14-18 weeks gestation that could be detected moving in the womb. These days it is very easy for medical science to confirm a pregnancy and we are used to seeing images of tiny foetuses moving in the womb, but at this point making such a determination was much more difficult.  Emma was probably first examined by Dr Shields, the prison physician and Dr Hooper, physician to the Women's Hospital, on 5 October.  On this first occasion they reported that they were unable to reach a definitive conclusion, advising that it was 'impossible in the early stages of pregnancy to give an absolutely definitive opinion that would be free from all uncertainty'. They advised re-examination 'in about a month or six weeks.' (A Shields, 11 October 1895, Capital case file) The actual chronology is a little confused at this point, but on Friday 18 October Justice Hodges held a special sitting of the Criminal Court to hear Emma's petition under the Juries Act. He empanelled three doctors – Dr Balls-Headley, Dr Dunbar Hooper and Dr A. Shields – who examined Emma in a separate room adjacent to the court room.  It was also reported that they had examined her 'on Sunday last', which may have been the examination described by Dr Shields. They found that 'she was not enceinte in the state contemplated by the act.' On receiving that advice Justice Hodges determined that no order should be made and Emma was returned to gaol.
However there was clearly considerable unease about the possibility that she might be in the early stages of pregnancy, even if the child had not yet 'quickened'. At least two petitions seeking clemency had also been received in the interim and those opposed to the death penalty were campaigning vigorously for a reprieve. The Champion argued that carrying out the death sentence would amount to 'judicial double murder', and would 'exhibit Victoria to the world as the very lowest and most degraded of all civilized communities.' (Champion, 26 October 1895) Charles Strong and others argued in a long letter published in the Age on the same day that 'the killing of this woman is unnecessary for the protection of life, and if it be not necessary to this end, it cannot be in any way justifiable.' (p.14).
Within the gaol Emma continued to be monitored and was re-examined by the same three doctors on 30 October. In an extraordinary document, the doctors wrote again to the Attorney General on 30 October, describing Emma's menstrual history in some detail, including the fact that pieces of blood-stained blanket had been found in her vagina during examination on 5 October. They also dismissed suggestions raised by one Mr Maloney that Emma might have been suffering from a kind of menstrual mania when she committed the crime:
We beg to state that while serious disturbances of homicidal mania have occurred with women during the menstrual period, the symptoms being of a congestive character; in the case of Emma Williams, we find no evidence of general nervous disturbance, and there is no congestion of the local organs.
In a further letter on 31 October, Dr Shields suggested that the 'shock from arrest' and the stresses of the trial would 'sufficiently account for the irregularity in her menstruation.' Upon receiving this advice, Mr A.C. Akehurst of the Crown Law Offices, advised Henry Champion and Marshall Lyle (petitioners) that the Government had determined to advise the Governor that the sentence should be carried out and that 'His Excellency accordingly has declined to interfere.'(Capital Case file, Akehurst to Champion & Lyle, 31 October 1895)
Execution: 'O, Lamb of God, I come.'
Emma's execution date was set for Monday 4 November in the Melbourne Gaol. All executions in Victoria were carried out by hanging within the gaol. Although no longer public events, executions still attracted great interest, and the newspapers printed detailed accounts of proceedings.
In her last week Emma was said to be reconciled to her fate and preparing herself for death.  She was attended regularly by the gaol chaplain Rev. Scott, who described her as 'sincerely penitent, and most attentive to his ministrations.' Just days before her death Emma also received visits from two family members from Launceston, her brother and stepfather, and according to the Herald 'took an Affectionate farewell of them.' When the prison governor visited her on the morning of her execution, he 'found her calm, resigned ad determined to meet her fate bravely.'
Emma Williams was hanged at 10 AM on Monday 4 November 1895. She was attended by the chaplain until her last moments and was said to have murmured just before her death 'O, Lamb of God, I come.' Although the Weekly Times reported that the execution was carried out 'as quietly, as speedily, and as effectively as any that has ever taken place in the colony', (9 November 1895, p.36) the hangman's notebook suggested that he slightly miscalculated and 'the drop was a little too much for the weight'. See the hangman's remarks through the Herald Sun. Death was, however, instantaneous. At the subsequent inquest it was confirmed conclusively that Emma was not pregnant.
Emma Williams – early history
A certain mystery has surrounded Emma Williams' early history ever since her trial. On the eve of her execution the gaol chaplain made remarks suggesting that she was a victim of early abuse and had perhaps been forced into an underage marriage.  'But then…what chance had she? A wife at fourteen, a mother before she was fifteen, and all kinds of evil surroundings.' (Herald, 4 November 1895, p.1) This version of events was repeated in other newspapers, the South Australian Register for example. On 5 November this newspaper summarised the case and included the following:
She was an example of an extremely unfortunate class. Married at fourteen, and a mother at fifteen, she had a short and miserable married life. Her husband left her, and soon after died in the Melbourne Hospital.  The child of the marriage was adopted by a friend of the husband's, and the widow continued her career of dissipation and depravity. (p. 5)
This story of child marriage may have been invented by Emma to inspire sympathy. It has been repeated in several publications since. Unfortunately all of the evidence suggests that it was not true. Emma's history in Tasmania was not revealed at the time of her trial, and would not have helped her case had the details been known. This is the story we have been able to piece together from Tasmanian records.
Emma Williams nee Courtney was born in Evandale Tasmania on 24 November 1864, according to a record of her baptism in June 1866. When arrested in 1895 she gave her age as 27, although newspaper reports at the time described her as a woman of about 32. In fact she was 30. Her parents were Johanna and Henry Courtney and Emma was their second child.  Their first child, also a daughter, died either at or shortly after birth. Henry Courtney was a labourer and Johanna was an Irish dairymaid and general servant, a bounty immigrant from County Limerick.  They married on 25 March 1861 when Henry was aged 40 and Johanna 24. (Launceston registrations no. 66 of 1861) Johanna and Henry went on to have four more children together, all of whom survived infancy. One child, a boy named after his father, died at the age of nine. There is some implication that the family was poor, although newspaper reports of the family in 1895 described them as 'respectable'. But Henry had died at the age of 68 in 1883 at the New Town Paupers' Establishment, where the cause of death was given as 'brain disease'. Some eight months later Emma remarried, to Alexander Ross a fifty-year-old splitter, (a kind of timber worker) who was a widower. Emma and her husband witnessed the marriage. Ross was the 'stepfather' who visited Emma in prison just before her execution. By the time of her second marriage Johanna was evidently able to sign her name, but she marked the registration of her first marriage with a cross.
Emma did indeed give birth to an illegitimate child, but on 29 May 1882, when she was aged 17, not at the age of 15.  The child, a boy named Henry Bacon Courtney, only lived for ten days.  Both his birth and his death, reputedly of 'convulsions', were registered at the same time by Johanna (identified as 'Grandmother') on 9 June.  The father was named as one Joseph Bacon, a labourer. Just two months later Emma married, but not the father of her child.  Instead she married Henry William Williams a 28 year-old labourer. They were married at Johanna's home according to the rites of the Christian Mission Church and both Emma and Henry signed the marriage register.
Children followed promptly.  Emma and Henry's first child, a daughter called Eva May, was born on 19 December 1883. By then Henry was described as a 'grocer', so they seem to have been coming up in the world. Eva died of diarrhoea just a few days before her second birthday in December 1885. A son, George Henry, born on 24 March 1885, also died of diarrhoea in December 1885, just four days after Eva.  A second daughter, Bertha, was born on 17 March 1886.  She lived only five months, dying of 'bronchitis' on 17 March 1886. By this time Emma had given birth to four children, all of whom had died before they reached their second birthday.  Although infant death rates were far higher in the past, this was an unusually high death rate within one family.  It suggests either very bad luck, or neglect. On 14 July 1887 Emma gave birth to another daughter, Ella, and this child seems to have survived.  She was almost certainly the little girl who went with Emma and Henry to Melbourne and who was the subject of speculation about her whereabouts in 1895. No more children were recorded either in Tasmania or Victoria until the birth of John in Melbourne in 1893. However this history of infant deaths does give credence to newspaper reports in 1895 suggesting that Henry Williams had concerns about his daughter remaining in Emma's care.
What happened to Ella Williams?
There are often unsolved puzzles in historical research. Our insight into past lives is fleeting and is entirely contingent on finding appropriate records. The fate of little Ella Williams looks like it might be one of those unsolved mysteries. Sadly we can find no trace of Ella Williams, either in Victoria or Tasmania. Only one Ella Williams of about the right age married in Launceston (in 1916), but we traced her birth record to Fitzroy Victoria and excluded her. There is no record of a death in Victoria or in Tasmania that matches what we know of Ella. If she did return to Tasmania to live with Emma's mother, she may have assumed her stepfather's name of Ross, but we can find no records that match for Ella Ross either.  We are left with the account in the South Australian Register claiming that Ella was adopted by a friend of Henry Williams. The source of this account is not clear, but we have found ourselves hoping that it is true. We would like to think that at least one of Emma's children managed to survive, against all the odds!
Emma Williams and Victorian society in 1895
Emma's story is a reminder of the terrible difficulties women faced in trying to support children on their own in Victoria at this time. Although the evidence suggests that she was not a very caring mother, or even perhaps especially competent, Emma's story also reveals the harsher side of Victorian society, especially during the economic depression of the 1890s. Whatever Emma's sins might have been in the eyes of officialdom, the saddest aspect of this story is the general indifference to the fate of her child shown while he was alive.
An obscure detail of legal history
When Emma Williams petitioned for a stay of execution under the Juries Act 1890 (Vic) she created legal history in Victoria, according to Justice Hodges at the time. But the terms of the act also conceal an interesting little piece of legal history – an instance of a traditional role for women in the operation of this law, which was removed in the process of amendment. When the Juries Act was amended in 1890 the decision was made to amend sections 89 and 90.  Section 89 in the previous act empowered the judge to empanel a jury 'de ventre inspiciendo'- literally to inspect the body, where a woman claimed to be pregnant.  It was used in both Chancery Law (in terms of property) and in capital trials. The most common recourse was to swear a so-called jury of matrons, who could be composed of any such women found in the courtroom. Towards the end of the nineteenth century the medical profession was increasingly critical of this method, claiming that it was unscientific and therefore subject to error, and it was presumably for this reason that the Juries Act 1890 repealed this provision. What is interesting is that they chose to replace it by a provision that specified not only the profession but also the sex of potential jurors. The amended section 90 enabled the judge to direct 'that one or more medical men be sworn' to perform this office. 1890 was also the very year that Constance Stone registered as the first woman doctor to practice in Victoria. Was it mere coincidence then that in amending the Juries Act the drafters chose to designate the sex of the doctors empowered to perform this role? It does seem ironic that a role previously performed by experienced women was removed and reserved to men at the very same time that women were beginning to enter the medical profession.
Sources
This account of Emma Williams' life has been drawn from records held by Public Record Office Victoria, the Registry of Births, Deaths and Marriages Victoria and Tasmania, and from contemporary newspapers.
Further reading
Shurlee Swain & Renate Howe Single Mothers and Their Children: Disposal, Punishment and Survival in Australia Melbourne, Cambridge University Press, 1995.
Shurlee Swain 'Mrs Hughes and the 'Deserving Poor', in Marilyn Lake and Farley Kelly (eds) Double Time: Women in Victoria – 150 Years Ringwood, Penguin, 1985, pp. 27-31.
Patricia Grimshaw, Marilyn Lake, Ann McGrath & Marian Quartly Creating a Nation, 1788-1900 Ringwood, McPhee Gribble, 1994
J.C. Oldham 'On pleading the belly: a history of the jury of matrons', in Louis A. Knafia (ed.) Criminal Justice History: an International Annual, no 6, Greenwood Press, 1985.